4500K
Stainless Steel / Cool White
EOB-RCW-01

3000K 
Stainless Steel / Warm White
EOB-RWW-01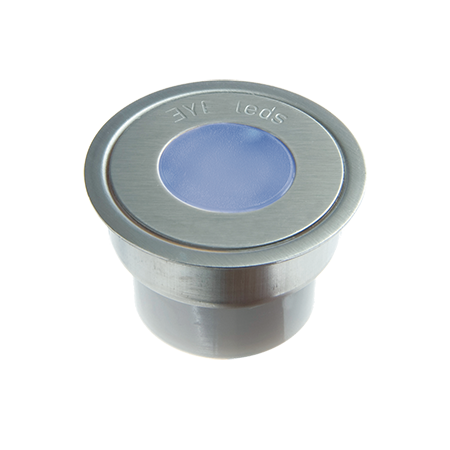 Stainless Steel / Blue LED
EOB-RBL-01

Stainless Steel / Amber LED
EOB-RAM-01
OUTDOOR SURFACE LED LIGHTING SYSTEMS
Eyeleds® Outdoor Basic/Pro is an innovative range of outdoor surface lighting driven by energy efficient and long lasting LED technology. The range consists of architectural, recessed, walk-over landscape lighting, and is available in the round lens style. The Outdoor Basic rounds are used as accent, orientation, marker, guide or night-lights, in decking, pavers, tile, boat docks, piers, concrete sidewalks and driveways.
Eyeleds® Outdoor Basic/Pro, low profile LED light fixtures, install flush into most exterior surfaces. The fixture recesses into a 40 mm hole, drilled through the surface of the material. The fixtures are made of top quality materials and components that are resistant to corrosion and UV- radiation. The solid construction is engineered to withstand heavy use: walking or even driving over the lights is not a problem.
APPLICATIONS:

Tile, stone & pavers
Decking & deck tiles
Boat docks & piers
Sidewalks & driveways
PRODUCT CONFIGURATION & DIMENSIONS
Eyeleds® Basic/Pro is a single, linkable LED unit with two 80 cm cables and pre-attached male and female IP67 plug connectors.

---
---
SPECIFICATIONS

---
Lumen output:
 1.6 lm
---
Power consumption:
 0.3W, 25mA
---
Voltage:
 12V DC
---
Rated life:
 Up to 100.000 Hours
---
Materials: 
Lens: PC | Fixture: Stainless Steel 316
---
Walkover pressure:
 Max 285 kg
---
Surface temperature:

max. 34 °C
---
Operating temperature:

  -35°C to +65°C
---
Environment:
 IP67 / Outdoor Rated
---
Warranty:
 5 Years Limited
---
Standards: CE

---
---
ACCESSORIES EYELEDS BASIC
---
---