4500K
Stainless Steel / Cool White
EMU-SCW-01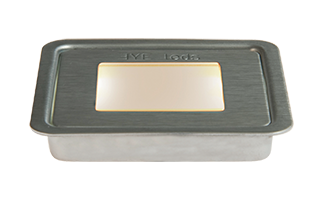 3000K
Stainless Steel / Warm White
EMU-SWW-01

Stainless Steel / Blue LED
EMU-SBL-01

Stainless Steel / Amber LED
EMU-SAM-01
LED FLOOR LIGHTING SYSTEMS
Eyeleds® Multi Square, a single, linkable version of the popular 'Floorleds', floor lighting system, features a built-in depth of just 6.5 mm and offers revolutionary possibilities to be creative with light.
Eyeleds® Multi Square can be used as interior design accents, guide or night-lights. Additionally, this system can be installed into existing flooring by accessing the floor below to link the connectors together through a basement or crawl space.
Eyeleds® Multi Square are perfect for commercial applications such as restaurants, retail establishments, entertainment facilities, sport facilities, theatres, casinos or hotels. The solid Eyeleds® construction is designed to withstand heavy use; walking or even driving over the lights is not a problem.
APPLICATIONS:

Wooden flooring, indoor tiles, marbel etc.
Stair treads, stringers & risers
Baseboards & profiles
Countertops & cabinets

PRODUCT CONFIGURATION & DIMENSIONS
Eyeleds® Multi Square is a single, linkable LED unit with two 80 cm cables and pre-attached male and female IP67 plug connectors.

---
---
SPECIFICATIONS

---
Lumen output:
 2.0 lm
---
Power consumption:
 0.6W
---
Voltage:
 12V DC
---
Rated life:
 Up to 100.000 Hours
---
Materials: 
Lens: PC | Fixture: Stainless Steel 316
---
Walkover pressure:
 Max 285 kg
---
Surface temperature:
 Max 34°C
---
Environment:
 IP67 / Indoor Use Only
---
Warranty:
 5 Years Limited
---
Standards: CE

---
---
ACCESSORIES
---
---